Host an Exhibition
We invite you to host and exhibit artwork in your community to celebrate the artwork of youth from around the world and spread the Universal message of Peace "May Peace Prevail On Earth."
What is the Ambassador of Peace Art Exhibition?
The Ambassador or Peace Art Exhibition was selected and created from the tens of thousands of artwork submitted to the Peace Pals Art Awards since its inception in 1997. It features the artwork of youth, ages 5 – 16, from each of the 116 countries who have submitted their creations to the Peace Pals Art Awards over the years. Each piece celebrates the Vision of Peace within the hearts of youth and highlights the message, May Peace Prevail On Earth. We are proud to feature these precious pieces representing the various culture and traditions of the world.
116 Countries since 1997 – Included in the Ambassador of Peace Exhibition
Afghanistan, Albania, Algeria, Argentina, Australia, Austria, Bahrain, Bangladesh, Barbados, Belarus, Bermuda, Bhutan, Bolivia, Bosnia and Herzegovina, Botswana, Brazil, Brunei Darussalam, Bulgaria, Burkina Faso, Cambodia, Cameroon, Canada, Chile, China, Colombia, Cook Islands, Costa Rica, Croatia, Czech Republic, Ecuador, Egypt, Estonia, Ethiopia, Finland, France, Gambia, Georgia, Germany, Ghana, Greece, Guatemala, Hungary, India, Indonesia, Iran, Iraq, Ireland, Israel, Italy, Jamaica, Japan, Jordan, Kazakhstan, Kenya, Kuwait, Latvia, Lebanon, Liechtenstein, Lithuania, Macedonia, Malaysia, Maldives, Malta, Mauritius, Mexico, Moldova, Mongolia, Montenegro, Morocco, Myanmar, Namibia, Nepal, New Zealand, Nigeria, Pakistan, Panama, Peru, Philippines, Poland, Qatar, Romania, Russia, Rwanda, Saudi Arabia, Serbia, Seychelles, Sierra Leone, Singapore, Slovakia, Slovenia, South Africa, South Korea, Spain, Sri Lanka, Sudan, Sultanate of Oman, Switzerland, Syria, Taiwan, Thailand, Trinidad and Tobago, Tunisia, Turkey, Uganda, Ukraine, United Arab Emirates, United Kingdom, United States of America, Uruguay, Uzbekistan, Venezuela, Vietnam and Zimbabwe.
What's included in the exhibition?
The Ambassador of Peace Art Exhibition contains 116 pieces of artwork. The name, age, country of the artists are printed under each painting. The flag of the artist's country is also included with the message, May Peace Prevail On Earth, in both English and the native language of the artist.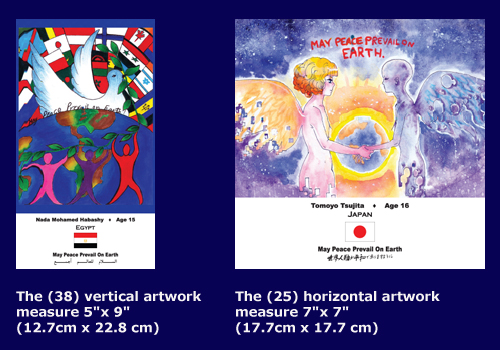 When to Exhibit?
You may choose to host an exhibition at any time during the year. Whether you plan a grand or intimate event, the Ambassador of Peace Exhibition will add a unique and sweet visual message from youth around the world to your existing program.
Where to Exhibit?
To date Peace Pals artwork have been exhibited during conferences and events at City Hall's, Libraries, School, Institutions, Places of Worship, Fairs, and Art Galleries. Click here to view the photo gallery of past tours and visit our Ambassador of Peace Collection.
How to register for your Collection?
Please contact us to receive a link where you can download all of the artwork and material for your exhibition.
Fees
The Ambassador of Peace Exhibition is free for you to download.  Unfortunately the cost for printing and shipping have become too expensive and the loss due to mail is high, therefore we invite you to contact us to receive your dropbox link.

If you have any questions, please feel free to contact Jules Loren.