2018 Theme and Message: Living Peace
What does Living Peace Mean to You?
Congratulations to all of our Winners and Finalists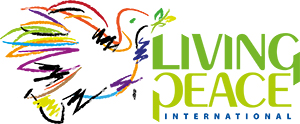 This year our theme was co-created with Living Peace International, which was founded in Egypt in 2011, by Carlos Palma. Living Peace International promotes the affirmation of a culture of peace, the only one who can respect and respond to the real and deep questions of each and every one, in the journey towards universal friendship.
The artwork was drawn and painted to express Living Peace daily in their life and what Living Peace means to them. Living Peace is a way of life in which we respect and love each other even though we are different.
To view the Winners and Finalists Artwork – Click on an image to view the Gallery
2018 Winners – All Age Groups
Finalists – Age 5 – 7
Finalists – Age 8 – 10
Finalists – Age 11 – 13
Finalists – Age 14 – 16
This year we chose 4 special works of art from young people who entered this years art contest.  They were selected in four distinct category awards.
Honorary Awards