In Celebration of
World Kindness Day 2021

Youth from around the World are
invited to submit their artwork to
The 24th Annual
Peace Pals International
Art Exhibition and Awards

Artwork must include


May Peace Prevail On Earth


and follow the theme

Kindness



The deadline to receive the artwork is August 31, 2021
Winners will be Announced on or around the World Kindness Day
13th of November 2021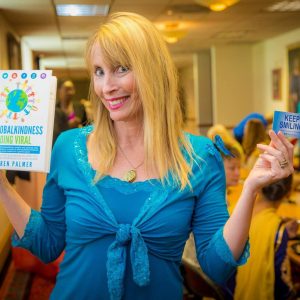 Peace Pals International
has joined in partnership with
Karen Palmer "Miss Kindness" of Global Kindness TV. 
Karen Palmer made a wish that sparked a kindness revolution. Karen is a Global Kindness Leader and Educator. Founder and President of Eco-Angel Enterprises a 501c3 organization dedicated to bringing kindness and compassion to all life experiences. Her organization is dedicated to educating children and families about environmental issues, animal advocacy, kindness, mindfulness, and compassion.  To learn more about Karen and her project, please visit: globalkindnesstv.org or visit Ms. Kindness on Peace Pals International.
Please have youth create their artwork with the theme "Kindness."  Giving thought as to what kindness means to them and how being kind and acts of kindness can influence peace and harmony.  Children must create all artwork.  The theme must include artwork of acts of kindness and must include the words May Peace Prevail On Earth in English or your native language.
Rules and Guidelines
Artwork
Size: Horizontal or Vertical design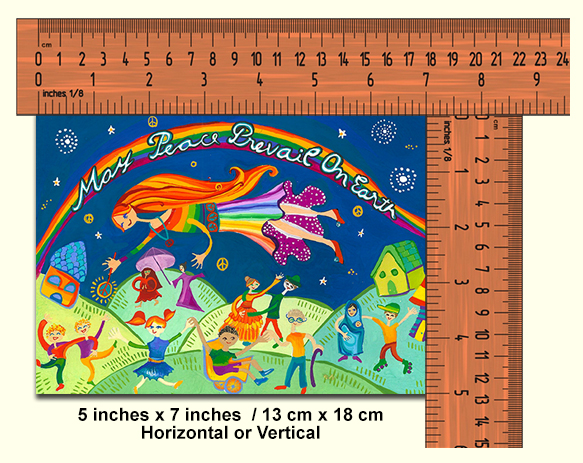 5" inches x 7" inches
12.7 cm x 17.7 cm
All art must be original, hand drawn, sketched or painted on paper or cardboard. You can upload your artwork or send by postal mail when it is finished.
Artwork must follow the theme "Kindness"
Artwork must include May Peace Prevail On Earth on the artwork.
IMPORTANT: Artwork or writing done by an adult will be disqualified.  Artwork must be original.  If the artwork does not include the theme or May Peace Prevail On Earth – The entry will be disqualified.
Register
You must register online to participate.
Please read the rules and follow all directions.
Four Age Categories – One Entry Per Child
Age Category One: Age 5 – 7
Age Category Two: Age 8 – 10
Age Category Three: Age 11 – 13
Age Category Four: Age 14 – 16

Prizes to be Awarded
First Place Winners ~ Classic White Peace Pole
Second Place Winners ~ 17" Desktop Peace Pole
Third Place Winners ~ 8" Desktop Peace Pole
Finalists ~ Certificates and Assorted Prizes
Please upload your artwork by 1 September 2021.
After you have registered,  you will be emailed a link to your personal dashboard where you can upload your artwork.  All artwork must be scanned in high resolution (300 DPI) and saved as a JPG and follow the rules and guidelines.
If you are unable to upload your artwork.
Artwork must be received by 1 September 2021
Mail to:
Peace Pals International
26 Benton Road
Wasaic, NY 12592
USA
845-877-6093
Certificate of Participation
All participants who upload their artwork will receive certificates.  Only artwork that has been uploaded will receive a certificate.
Please login to your dashboard to download your certificate.
For more information, please contact Jules Loren at Peace Pals International.
Peace Pals International is a project of May Peace Prevail On Earth International